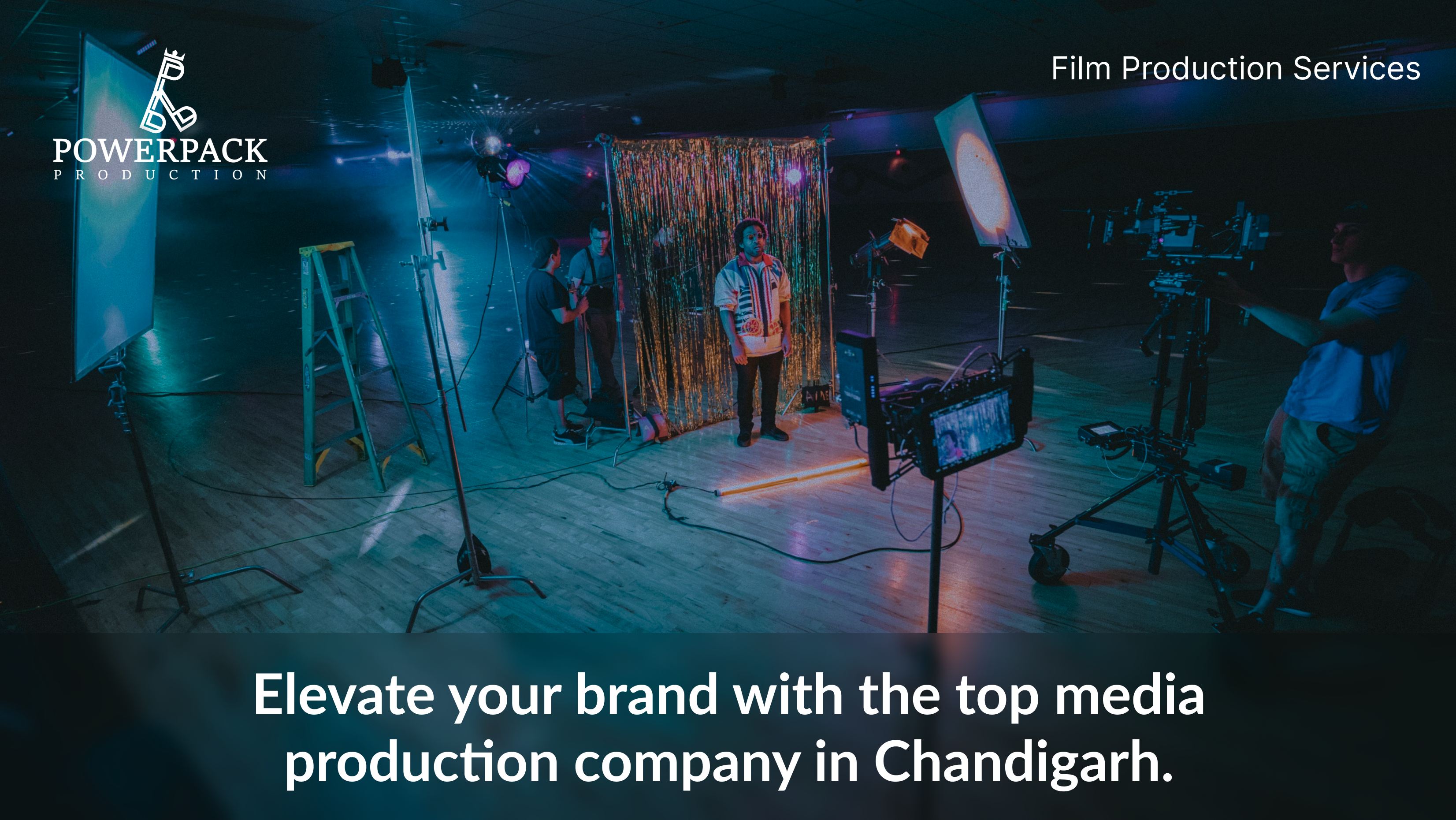 Elevate Your Brand With The Top Media Production Company In Chandigarh.
Welcome to the world of Powerpack Production, the premier media production company in Chandigarh. Powerpack Production is a model of excellence in the modern digital age, where visual material is crucial for defining businesses and capturing audiences. They have been at the forefront of providing top-notch media production services that take brands to new heights, thanks to our extensive history and visionary approach.
Powerpack Production, the coolest media production company in Chandigarh, has a fascinating backstory. It all began when a group of imaginative outcasts made the decision to work together and combine their unique talents. With a shared passion for telling stories and an eye for the ideal photo, Powerpack Production quickly rose to the top of the field.
They don't just create captivating films and gorgeous pictures at Powerpack. Their deeper goal is to enhance businesses and realise their goals. Their team is motivated by enthusiasm, creativity, and just a little bit of caffeine. They value pushing the envelope, being different from the crowd, and having a great time while doing it. They take pride in providing exceptional quality and going above and beyond.
They take great pleasure in providing excellent quality and going above and beyond for their customers. Because ultimately, if you succeed, they will succeed.
Let's now examine the impact of high-quality media production on branding.
Enhancing Brand Identity through Engaging Visual Content
The new currency in the digital world of today is visually appealing content. Your brand can quickly go from "meh" to "wow" with high-quality media production. You can strengthen your brand identity and make a lasting impression by producing interesting visual material that appeals to your target audience.
Storytelling and Emotional Appeal in Media Production
People relate to stories more than sales pitches. Because of this, they prioritise emotional resonance and compelling narratives in the creation of their material. They strengthen the bond between your brand and your audience by developing narratives that evoke strong feelings. It's like adding a touch of magic to your marketing plan.
Using professional media to reach the target audience
A well-made video can convey more information than a thousand words and pictures combined. With the help of high-quality media production, you can engage your target market on a completely new level. Professional media can elevate your brand and forge a deep connection with your audience, whether through spectacular imagery, relatable storytelling, or just grabbing their attention.
So if you're ready to elevate your brand through incredible media production, Powerpack Production is here to assist. Let's create something incredible together.
A Complete Overview of the Services Powerpack Production Offers
Video production services
Lights, camera, action! Their video production services are here to make your vision a reality, whether you require an enthralling commercial, a mind-blowing music video, or a documentary that will leave your audience speechless. Every aspect of the production is handled by their professional team, from scripting to cinematography, making sure that each frame has a compelling narrative.
Say cheese! Words just cannot express the unforgettable moments that their photographic services record. Their staff has a talent for capturing the right image, whether it be stunning portraiture or captivating event coverage. They'll make sure your brand comes through in every picture, leaving your audience with a favourable impression.
Motion graphics and animation services
Are you ready to elevate your brand to a new level of cool? Your pictures get a little extra enchantment from their animation and motion graphics services. Whether you're searching for mind-blowing visual effects or eye-catching logo animations, their skilled animators will make even your wildest ideas come to life.
Editing and post-production services
Camera, ready, edit! Your videos and photos will have that extra edge because of their post-production and editing services. They'll make sure that your pictures are flawless, with smooth transitions, vibrant colour grading, and music that is perfectly in tune. It's similar to giving your media a digital facelift.
State-of-the-art equipment and facilities
Powerpack Production is committed to providing its customers with products of the highest caliber. Their cutting-edge facilities and equipment allow us to create visually stunning and expert videos that attract audiences. They never skimp on the equipment that sets things apart from the competition, from high-definition cameras to cutting-edge sound systems.
Experienced and skilled production team
Talented employees on our production team contribute their knowledge and originality to each project. They have the abilities and knowledge required to handle any media production problem because of their many years of industry experience. The team makes sure that every stage of your production is carried out properly, from scriptwriting to editing, yielding a result that exceeds your expectations.
Are you ready to take your brand to the next level? Contact Powerpack Production right away to put its magic to work. Whether you need a compelling commercial, a social media campaign that goes viral, or a compelling brand story, we have the skills and zeal to make it happen. Elevate your brand with the top media production company in Chandigarh and leave a lasting impression on your audience.
Conclusion
To sum up, Powerpack Production is the ideal ally for companies wishing to strengthen their brand through excellent media production. Powerpack Production has established itself as the top media production company in Chandigarh by offering a wide range of services, a history of success stories, and a dedication to providing perfection.
They can assist businesses in connecting with their target audience and making a lasting impression by utilising their cutting-edge technology, knowledge, and creative vision. Take the next step in enhancing your brand's presence and success by collaborating with Powerpack Production.
Your brand deserves the best, and Powerpack Production is here to make it happen.